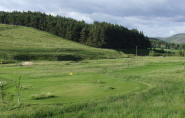 For the more active the Glenholm Centre is developing a small community golf course or pitch 'n' putt. Near to Broughton and easily accessible from Peebles and Biggar, the course is shared with the farm's sheep who do a great job of keeping the rough down, although a brush sometimes comes in handy on the greens. It is not maintained professionally but through the hard work of enthusiastic volunteers (we're always looking for more help) it still provides an enjoyable challenge.
There is no charge to play the course but you can hire clubs and balls from the Glenholm Gift Shop if you need them.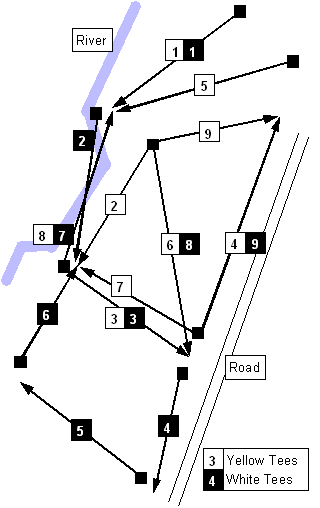 The course has six greens and nine tees which in combination produce two routes of nine holes around the course. The yellow tees (or front nine) are the easier. The white tees (or second nine) represent a more chllenging 'back nine'.
In keeping with the ethos of the Glenholm Wildlife Project a range of native trees is being planted around the course to separate fairway from fairway.
If you do use the Glenholm Golf Course please be careful and considerate of other course users, walkers and cars on the road. Do NOT hit a shot to a green until that green and the area surrounding it are clear of people.
Be aware that you use the Glenholm pitch and putt at your own risk.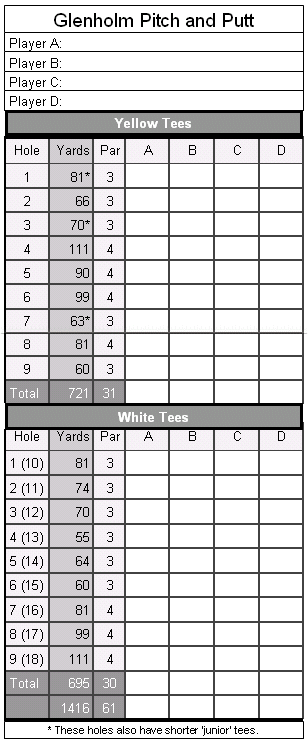 The golf course has provided a great excuse for some designer tree planting. In the last three years a variety of trees, both native and ornamental, have been planted around the tees, greens and bordering the fairways. Currently while enjoying, or exploring the golf course in search of lost balls, you will find the following tree species:
Ash
Cherry (ornamental)
Crab Apple
Rowan
Silver Birch
Sycamore (ornamental)
Whitebeam
Willow (native and ornamental)
---


&copy The Glenholm Wildlife Project
Broughton, by BIGGAR, Scottish Borders ML12 6JF
Telephone: 01899-830408 - Fax: 01899-830408
E-Mail: info@glenholmwildlife.co.uk
---